The Jayne Group Brand Promise
To help leaders and their teams deliver unbelievable results faster and more profitably than they could have ever imagined.
Over the span of 22 years of being a turnaround CEO, Camille also ran The Jayne Group, a business management consulting company. A businesswoman par excellence – who won the prestigious Women in Business of the Year Award in Orange County CA – Camille and her team of partners have helped pave the way to rapid growth and healthy workplace environments for a multitude of clients.
Camille Jayne's corporate career allowed her to travel down many different paths from consumer electronics and digital video, to financial services and consumer products. Her multi-faceted story is most remarkable because of her dynamic leadership, innovative coaching style, and stunning successes in every arena into which she has ventured, over a wide variety of industries, helping small, entrepreneurial businesses to large, public companies.
Besides being an astute businesswoman, Camille has achieved respect as a business professor, a mentor and an exceptionally giving philanthropist.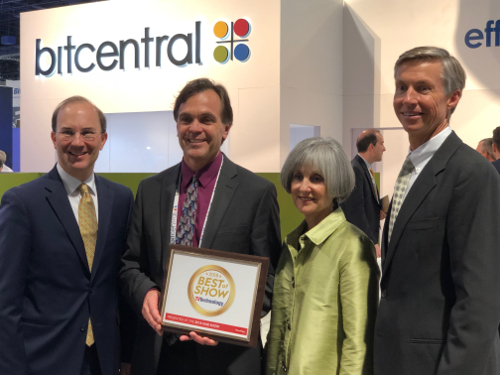 Camille with Bitcentral employees getting the "Best in Show" award for innovative digital video new product at the National Association of Broadcasters, 2018. (www.streamingfuel.com)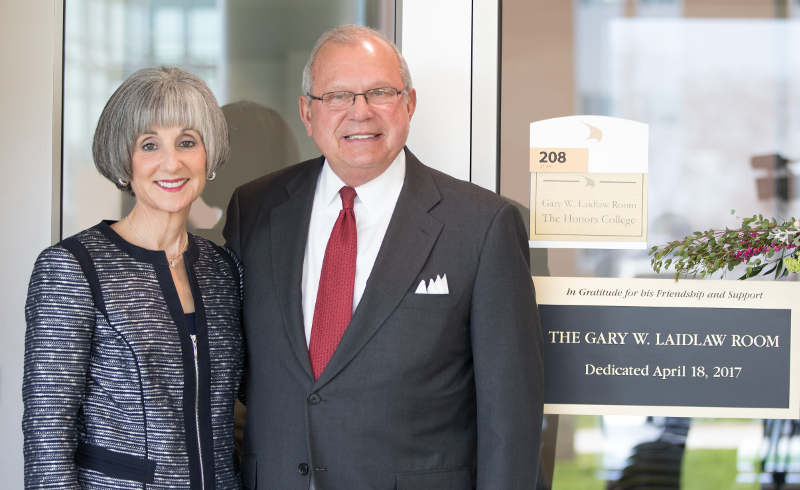 Camille with Gene Miller, former Chairman & CEO of Comerica Bank at her dedication of the Gary W. Laidlaw Room at Oakland University, Honors College for student scholarships.
"Working with Camille, I noted that she always practiced CEO in her work. I am not referring to Chief Executive Officer. More importantly, it was the way she conducted herself. The "C" stood for the customers in her life, not chief. She did not forget about the "E" which was not executive, but rather employees. Again, that was not where she stopped. She moved on to the "O" which was not for officer, but owners. She has wonderful balance between Customers, Employees, and Owners for any business which has the good fortune of her business acumen and services. In my opinion, these are necessary ingredients for not only a successful CEO but as importantly, a successful businessperson and team member."
—Eugene A. Miller, former Chairman and CEO Comerica, Inc.
As featured in the "
Orange County Business Journal,"
October 5, 2020
The Jayne Group, a business management consulting firm with a proven track record for delivering unbelieveable results, announced the addition of new advisory services with the expansion of its network of partner companies.
The Jayne Group's expert offerings now cover a diverse landscape of business needs including strategic planning, business restructuring, brand messaging, web design, IT support, crisis communications, organizational health, recruiting, bespoke legal counsel, employer-sponsored services and succession planning.
"Proven strategic planning experts offer insight, critical objectivity and real process improvement," said Camille Jayne, founder/CEO of The Jayne Group. "Having access to an established network of trusted and stellar professional partners that can deliver on specific tactical needs, combined with our unique process to execute a strategic pivot, are what set us apart."
The firm offers a full-service approach to identifying and addressing business challenges and opportunities, ranging from high-level strategic planning and implementation to in market execution.
"I'm a firm believer that placing the right people in the right seats is critical, and The Jayne Group partner companies add to that team, representing of the best in their respective fields," added Jayne.
Learn more about The Jayne Group Services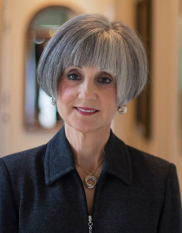 The Jayne Group thanks our clients whose business we've appreciated over the years:
The Bank of Birmingham; Orlans Associates, PC; Malibu Technologies; United Community Family Services; Impact 100 Metro Detroit; Bitcentral, Inc.; Vasileff Medical Group; Stanislaw Consulting; Specialized Marketing Services; NAWBO-Orange County; Comerica Bank; SkyGuard; The Project Group; Telecommunications, Inc. (now AT&T); United Video/TV Guide; Ameritech (now AT&T); Fetzer Wine; Korbel Champagne; Motorola; Hewlett Packard and The Kellogg Company.