Proven processes have consistently delivered unbelievable results in all three areas of The Jayne Group's focus: business restructuring; business management consulting and mentoring/coaching.  Satisfied clients willingly offered up testimonial tributes to The Jayne Group's work.
"When we look back at the shambles of an organization that Camille inherited and what we have today, I will tell you that Camille is a master of restructuring. She and her team of experts did more than I originally expected and did so in one-third of the time."
— J.D. Power III, Chairman SkyGuard, LLC
When Camille stepped down as President & CEO of The Community House after turning around the failing nonprofit (she stayed on as Chairman of the Board), as a surprise "thank you" for her strategic and restructuring efforts, Congressman David Trott of Michigan gave tribute to Camille on the floor of the House of Representatives.
"I have worked as a partner with Camille and The Jayne Group during her tenures as CEO and turnaround specialist at both public and private companies.  Each time I have watched as she very quickly strategically redirected the companies, transforming their teams and cultures, resulting in greatly increased revenues and profitability.  I have also attended her business classes, and found her to be one of the best lecturers I have ever had.  Camille is an outstanding communicator- direct, clear and to the point, while remaining very approachable and empathic.  As a leader, Camille inspires confidence and helps everyone she works with be so much better at what they do."
— Victoria Betancourt, President Coneybeare
"Camille knows how to think big—and connected us to opportunities that helped grow NAWBO-OC into the largest chapter in the U.S. She helped us to restructure our chapter and facilitated an amazing strategic plan that catapulted us to grow from 175 to 405 members in just 18 months. She believed in us so much she single-handedly brought in new corporate sponsors and motivated the corporate community to believe that women's organizations are a viable and vital market segment."
—Board Director – National Association of Women Business Owners-Orange County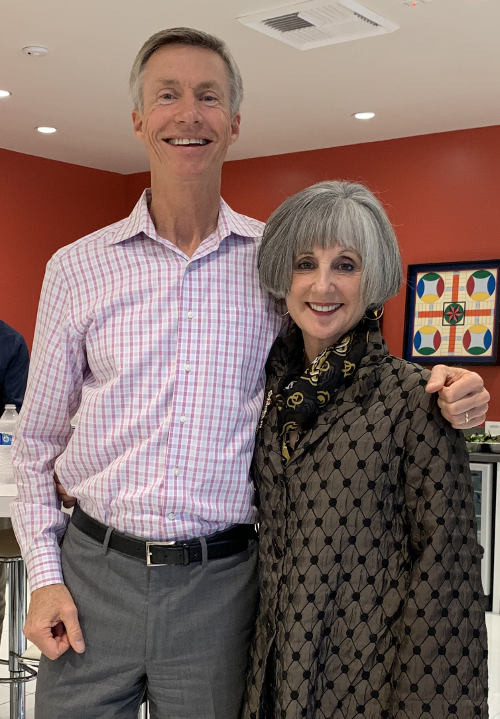 Camille and Fred Fourcher founder/CEO Bitcentral, Inc.
"I am incredibly appreciative to Camille for her dedication to Bitcentral over the past number of years as an active board director and ultimately president. We appreciate her willingness to serve as president in a time when we most needed her strategic talents, operational savvy, and management skills to restructure the organization, and to coach and mentor our team to the increased success we have had for the past three and a half years. She delivered on her personal brand promise to "stun us with unbelievable results." I am in awe of what she did, appreciate all the resources she brought to us, and we all are grateful to her."
—Fred Fourcher, founder, CEO Bitcentral, Inc.
Business Management Consulting Services
"Camille is a highly respected and recognized visionary and leader with a well-known record as a successful CEO. She combines knowledge, breadth and experience with a superb delivery that engages anyone to want to learn from her, both as a business consultant and in the university environment. She has been an invaluable Visiting Professor in our MBA program."
—Andrew J. Policano, former Dean, Paul Merage School of Business University of California, Irvine
"I wish I could have met Camille earlier in my career. She understands how to balance a growth mind set with a preparedness for all outcomes – which is no easy feat. Most consultants and leaders lean one way or another. But Camille found that balance, and guided the team to deliver a high-octane growth plan flawlessly. She is also a great balance of strength and compassion. There are professionals that are caring without strength of conviction for change and vice versa – she has the great combination of both."

–Greg Morrow, Vice President of Business and Corporate Development, Bitcentral Inc.
"A mentor is someone who provides guidance, strategy, and support, coupled with being a caring partner who always has your best interests in mind, and that is who Camille is to me.  She is a mentor, a partner, and most importantly, advises me not just from a business but whole person perspective.  Camille helped me to lay the foundation of my business for which my family and I will be eternally grateful."
—Paul Fenner, founder and President, CFA, CFP, TAMMA Capital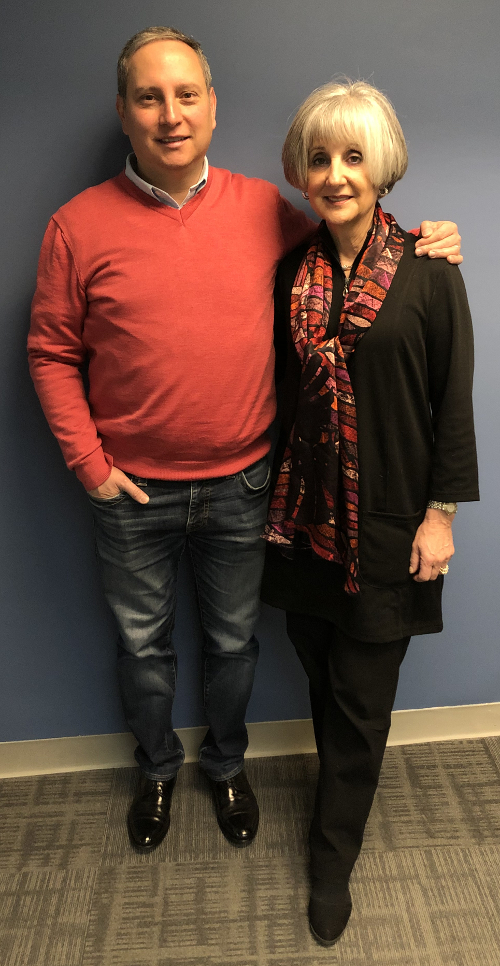 Camille and Andres in Mexico City headquarters
"Camille's ability to fully understand the complexities and challenges of any business within a short period of time, is outstanding. She excels at identifying the changes both the organization and the team need in order to take them to the next level as fast and structured as possible. As part of this process she embarks herself on a mission to coach and mentor others on the team, acknowledging that such an improvement will be translated into type of success she is best known for delivering – unbelievable results. As my mentor, Camille created strong motivation within myself that focused me on the achievement of my targets and objectives of improvement. She inspired me to give the best of myself on a consistent basis, and was the most outstanding leader and mentor I have met in my career. She triggered a truly positive and transformational change in my professional delivery and results. I feel privileged and lucky to have been mentored by her and to work together. I look forward to continuing our mentor/mentee partnership."
—Andrés Galván, Managing Director, Bitcentral Mexico